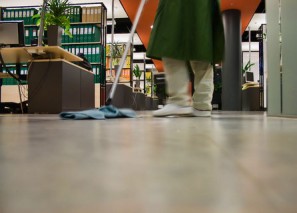 Office Building Cleaning
Office cleaning in New York is a big deal. A clean work environment is essential for productive and motivated staff, but a clean office building is also crucial for clients and customers. A dirty office setup will repel potential customers and tenants, which means less revenue for your business. In addition, poorly maintained buildings can also lead to increased absenteeism among employees who don't want to work in such an environment.
Why Use Our New York Commercial Cleaning Services for Office Building?
At Commercial Cleaning New York, our commercial sanitation services for offices are more than just a service. We believe that every employer and employee deserves a clean and sanitary office environment. Our office space sanitation services are designed to do just that. We tailor all of our sanitation solutions policies for office facilities, whether medical or commercial, and our schedule around the needs of our clients. Some of the benefits of office cleaning in New York that we offer include:
Office cleaning in New York on a routine basis, for one-time cleanings and events, and post-construction cleanup.
Special floor cleanings including hardwoods and carpet shampooing.
Hard floor treatments, polishing, and buffing.
Kitchens, cafeterias, bathrooms, conference rooms, offices, and other working spaces.
Office window cleaning both inside and outside.
Sanitization includes bathrooms, kitchens, door handles, light switches, telephones, and work surfaces.
Office furniture cleaning including dusting and upholstery.
Removal of waste and emptying of trash containers and wastebaskets for pickup.
Fill out the free cleaning estimate form below to learn more about our professional cleaning services. We will use this information to start a dialogue in order to provide you with a variety of options for every budget.