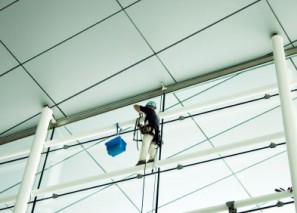 Airport Cleaning
Airport cleaning services are an essential part of airport management and they can make a huge difference in how your airport is viewed, especially when it comes to promoting tourism. Airport cleaning jobs are responsible full time for the daily cleaning of public spaces, including restrooms, lobbies, and hallways.
The World Health Organization and local governments encourage good hand-washing practices, particularly in public places such as airports, but airlines must also do their part by maintaining a clean environment. The airport should hire a janitorial service company in addition to promoting proper disposal of disposable paper wipes and providing post hand-washing signs.
Cleaning services companies have the ability to provide safety and security for passengers and employees by sanitizing areas such as car parks, cargo terminals, aviation, runways, and taxiways. The assigned cleaners have been trained and have experience working in a variety of different industries and situations, so they are prepared for any situation that may arise.
Cleaning services play a crucial role in maintaining your airport's reputation as a safe and secure environment for both business travelers and leisure travelers alike. Ensuring that all areas are kept clean and sanitize at all times helps reduce the chances of accidents happening on site or infections spreading among passengers who visit regularly.
Wide Range of New York Airport Cleaning Services
New York airport cleaning services have to be dynamic because airline terminals themselves are dynamic work environments. The sheer volume of people, baggage, and material that moves through a busy airport daily requires effective cleaning solutions. Then factor in the food court, airline terminal employees, and terminal workers, and the entire complex has a wide range of cleaning needs. Overall, New York airport cleaning requires a professional team with a keen eye for detail; after all, the airport is the first impression and experience that visitors have when they arrive in a new city.
Comprehensive and flexible are the two best terms to describe Commercial Cleaning New York airport cleaning services. Airline terminals are occupied throughout the day, so we work our schedule around the typical traffic flow each day. Here are a few examples of Commercial Cleaning New York airport cleaning services and the diverse needs we serve:
Comprehensive housekeeping job from the terminal to the food court and shops, from the exterior of the airport through the lounges and employee areas, and from the baggage claim to departing flights and arrivals.
Commercial Cleaning New York airport cleaning services can also extend to the workshops, maintenance, and warehouse areas.
Basic maintenance and grounds needs including HVAC systems, lighting, electrical, plumbing, and landscaping. Our cleaning crews keep an eye out for these maintenance needs and can fulfill many of them on the spot.
New York airport cleaning services have to be flexible and comprehensive. We're here to help you keep your airport clean and safe for all passengers. We strive to be both while creating a safe and sanitary environment for airport workers and travelers alike.
Fill out the free cleaning estimate form below to learn more about our professional cleaning services. We will use this information to start a dialogue and provide you with various options for every budget.