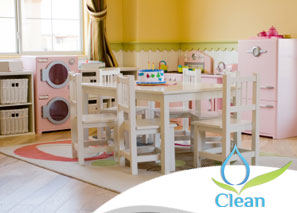 Daycare Cleaning Services New York
New York daycare cleaning services from Commercial Cleaning NY are designed for the health and safety of your employees and the children in your facility. We believe that a safe and clean work environment is a right, not a privilege, so we work hard to make sure to provide the right daycare cleaning in New York to make that a reality. Sanitation is critical for every daycare facility to help prevent the spread of germs and diseases for the children, your employees, and their families.
The Importance of Hiring Daycare Cleaning Services
It is important to hire daycare center cleaning services in order to keep your kids safe and healthy. Cleaning is not just about keeping the germs off but also about maintaining a good environment for the kids. For example, you cannot expect your kids to be happy if they are playing in a filthy room. You also must ensure that they are not exposed to any harmful or hazardous substances in their environment.
In addition, it is vital that your child develops a good immune system at an early age. In fact, numerous studies have found that children who were raised in clean environments had better health than those who were not. A good example of this is the fact that most people who have asthma as adults have asthma as kids. This is because their parents failed to take proper care of them when they were young thus exposing them to various dangers such as dust particles and other pollutants which can harm their health in the long run.
Another reason why it is important for daycare to hire professional daycare cleaning services for their childcare facilities is that a cleaning company offers additional cleaning solutions such as office cleaning services, housekeeping services, event cleaning services and a preschool cleaning service, and more.
Sanitation And Day Care Cleaning In New York
Our professional staff provides New York daycare cleaning solutions on any schedule to fit your facility's needs. Our daily cleaning and sanitation services include:
Sanitizing and wiping down countertops, doors, door knobs, cabinet handles, offices, and floors.
Deep cleaning and disinfecting changing areas, bathrooms, kitchens, and eating areas, and the diaper pails and trash baskets.
Sanitizing all trays, high chairs, seats, and plastic toys.
Some of our clients prefer to do their daily cleaning or are on a budget and only require our professionals every week. Our flexible services for New York day care cleaning provide weekly cleaning such as:
Washing towels, linens, and rugs.
Disinfecting and washing costumes and dress-up clothes.
Deep cleaning on cribs, mattresses, pillows, and other bedding items.
A thorough interior and exterior window service.
We are a comprehensive service provider and will also come in for quarterly deep cleanings for your daycare or preschool, carpet shampooing, and our professionals are also trained to clean the exterior of facades, awnings, and even parking lots.
Fill out the free cleaning estimate form on this page to learn more about our professional New York daycare cleaning services. We will use this information to start a dialogue to provide you with a variety of options for every budget.