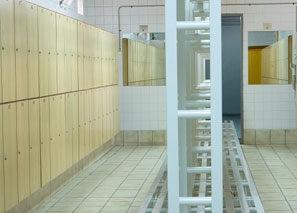 Fitness Center Cleaning Services
Sanitation is vital for New York fitness center cleaning. Our work ethic is focused on providing safe and sanitary spaces for our clients, and nowhere is that more important than cleaning gym in New York. With people sharing machines and equipment, germs can spread easily.
In addition, a clean gym is a good facility in which to exercise. No one wants to work out in a fitness center that is dirty and does not smell clean. For both employees and gym members using the facilities, New York health club cleaning is designed to provide a safe and enjoyable exercise experience.
Importance of Hiring a Cleaning Company to Clean Fitness Centers
Cleaning the gym is essential to ensuring its proper operation. If the people who work at fitness clubs do not have enough time or find it difficult to clean the fitness room, they should hire cleaning service companies that provide the highest quality cleaning services.
A cleaning company offering services for gym facilities has trained professionals who know how to clean up fitness centers properly. They will also make sure that you have all the necessary equipment cleaned in your gym so that your client can use it whenever needed without any hassle or delay. Maintaining hygiene standards in all areas of a fitness club is made easier through professional gym cleaning services.
Examples Of New York Fitness Center Cleaning Services
Our professionals provide flexible and comprehensive New York City cleaning services for fitness facilities. Our services are available on nearly any schedule and as often as they are needed:
Wipe down all of the equipment, including both cardio and weight machines. We sanitize benches, armrests, backrests, and any other surfaces that gym members come into contact with.
Sanitize exercise, stretching, and yoga mats, balance balls, free weights, and other fitness facility equipment.
Restock paper towel dispensers, sanitary wipes, and cleaning carts.
Trash collection and disposal, as well as cleaning water fountains and refrigerators.
In addition, we vacuum carpets and mop floors, as well as dust and clean windows.
Total Gym Cleaning Services
Commercial Cleaning New York fitness centers extend beyond just the exercise floor. We offer our services for fitness center bathrooms, reception and lobby areas, saunas, locker room, and class studios.
We offer a total gym cleaning service that can help you keep your equipment in good condition. Our expert janitorial cleaners will clean and disinfect all of your equipment, leaving it looking as good as new. This is an essential part of keeping your gym safe for your clients to use.
Contact our Gym Cleaning Service Today
Fill out the free cleaning estimate form on this page to learn more about our gym cleaning services. We will use this information to start a dialogue to provide you with a variety of options for every budget