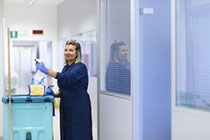 A lot of people feel that hiring a cleaning company is a great way to spend money on something they should be doing themselves. But that is not necessarily the case. Hiring a professional cleaning service can provide many benefits and not break the bank. It lets you focus on what is important or what makes you money.
Another reason that people avoid hiring a cleaning service is that they worry about the extra time and hassle of hiring a service. But, professional cleaners are much more efficient with their time since they are pros at cleaning, so they can be in and out quickly, with little interruption to your schedule.
The benefits of hiring professional cleaners include efficiency, a clean environment and allowing you to free your schedule for your life. And surprisingly to many, it can be very affordable.
Decide What You Need
There are several things you should decide before you start collecting bids, as these details can radically influence the bid. Before you get a quote for house or office cleaning, you will need to make a few decisions.
Determine The Frequency: If you are looking for a service that will clean your home, then you will probably not need the cleaners to come more than once a week. Some homeowners choose for weekly cleaning while others opt for a good deep-cleaning once a month. Office cleaning frequency varies widely too. If your office has a lot of traffic and many employees, then daily cleaning during the workweek is the best option. If the office is very small and has little traffic, then once a week may be enough.
Decide Which Services You Need: Residential cleaning companies offer a variety of services including vacuuming and mopping floors, changing bedding, dusting and cleaning bathrooms. Add-on services can be added on a frequent or infrequent basis depending on your needs. These include thorough window cleaning, laundry, and carpet shampooing. Commercial cleaners clean floors, bathrooms, empty trash, clean windows and break rooms on a frequent basis.
Special Considerations: Another factor in the bid process is if you require special supplies or equipment. While an increasing number of commercial cleaning services are turning to eco-friendly cleaning products, they may cost more than traditional products and that cost will be passed on to you.
How Prices Are Determined
After you have figured out the frequency, services and extras, the cleaning company will likely want to do a walk-through to get the lay of the land. Some companies charge by the cost per hour it will take to do the job while others bid the rate based on the square footage of the building.
When comparing bids you will need to keep in mind that you should compare apples to apples and oranges to oranges, so to speak. So make sure you get bids from companies in the same geographical area. Since business fees and taxes range from state to state, one company may have higher overhead than another if they arenât in the same location.
The best practice is to compare at least three quotes and check out the companyâs references, insurance and reputation before you hire them.