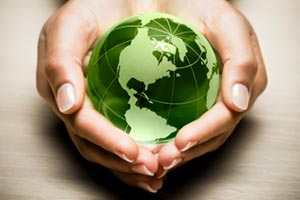 29 Ways to Make Your World More Green Today
Lower your thermostat. Check out/invest in a programmable one.
Use low-flow faucets, showerheads, and toilets in your bathrooms.
Buy compact fluorescent light bulbs. That's an investment that you won't regret.
Turn off lights and electronics when you leave the room or when not in use. Unplug your cell phone charger when not using it and other electronics such as lap top chargers.
Recycle your newspapers and all papers.
Reduce carpool carbon monoxide, use electric cars, walk, use public transportation, or ride your bike!
Instead of spending money on buying new books, take a trip to your local library and check one out.
Give family and friends the gift of saving the earth. Donate to their favorite environmental group, foundation, or organization. Makes for a perfect gift. And thoughtful, too!
Get off junk mail lists.
Look out for products that use recyclable materials, and try buying those whenever possible.
When you get plastic grocery bags at the store, reuse them for things such as doggie poop bags or for small trashcan liners.
Bring your own bags to the grocery store.
Consider making your own cleaning products out of household staples such as vinegar, borax, and baking soda.
Consider buying a fuel-efficient car or a hybrid.
Go paperless. Things like subscribing to newspapers, magazines, and electronic billing can make a difference.
Teach kids about the environment. Knowledge is power.
Recycle batteries appropriately at a recycling center.
If you're going to be idle for more than one minute, turn your car off.
When doing laundry, set the rinse cycle to cold, and do full loads.
Recycle.
Reuse things around your house, plastic containers for example can be used for storing little things for your children.
Limit the length of your showers. If you want to take the extra step, shut off the water while soaping up and shampooing.
Don't run the water when brushing your teeth or shaving.
Recycle your technology, such as un-used cell phones, laptops, computers, etc.
Plant trees!
Invest in green investments.
Whenever you can, try using green cleaning products, whether you buy them, or make them yourself.
Build a green home for you and your family.
Use the technology we have. Text messages and e-mails all help to reduce paper waste.