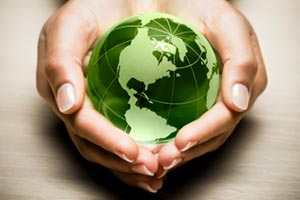 Earth Day comes around every single year, and not enough attention is put on it. This year, let's take the time to acknowledge and celebrate it. With society changing into a GO GREEN mode, let's make the BEST out of April 22, 2011! Protecting our environment is crucial for our future, and it's up to us to do our part and support it.
There are a range of things we can do, from not littering, to picking up litter, planting trees, educating oneself and the people around you—there are many free workshops and events where you get free educational tips, advice, and other goodies.
Sunshine Best Clean Corp. is always looking for new ways to support the Earth by going green. This week we will be attending a Earth Day New York Fair, both the inside and outside fair on Grand Central Terminal. It is a two day event filled with music, art, and information about the environment. It's a great way to social network with other green companies, and to gain knowledge, after all, you learn something new every day, don't you?
In case you are interested, the outdoor event hours are :
Outdoor Event Hours
On Vanderbilt Avenue from 42nd to 45th Streets
April 22, 2011 – 12:00pm – 7:00pm
April 23, 2011 – 11:00am – 4:00pm,
Indoor Event Hours
April 21, 2011 – 12:00pm – 7:00pm
April 22, 2011 – 10:00am – 7:00pm
April 23, 2011 – 10:00am – 5:00pm
The website states This indoor event brings together environmentalists, youth, green companies, and artists to celebrate Earth Day in New York City.
Earth Fair is free and open to the public with fun, interactive exhibits that help educate and inspire New Yorkers on how to be conscious consumers and more active citizens.
Please feel free to visit their website for any clarification
Also, from April 1-30, there is an Electronic Waste Recycling program where you can recycle broken or unwanted pieces of electronics.
If you are too busy to attend this weekend any Earth Day events, you can also text "Tree" to 85944 to plant a virtual tree and donate $5 toward Green World Campaign's real-world tree-planting efforts. Every little bit of effort counts.