When you think about cleaning companies, you usually envision the one that most people see when they are on their way out of the office at the end of the day or the one that cleans homes. But commercial cleaning companies also clean other spaces including retail stores, grocery stores, hospitals, and factories.
Safety First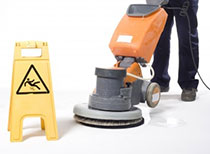 While office and house cleaning are important to keep a clean and healthy environment, there are other locations where cleanliness is of the utmost importance. For example, hospitals must be kept clean and disinfected or the spread of germs and viruses could be very dangerous.
Manufacturing plants and factories must also be cleaned on a daily basis for employee and consumer safety. Clutter or slippery floors could prove very dangerous in factories where heavy equipment is used, putting workers in extreme danger. Factories that produce medicine or food have strict regulations for cleanliness in order to keep consumers safe.
Hiring The Right Company For The Job
When you are looking for a cleaning company, it's important to consider a couple of factors before choosing one:
What kinds of products will be used? When it comes to food or drug safety, certain chemicals may need to be avoided in the cleaning process. It's important to inquire about all cleaning supplies used and make sure that if any are ever substituted, that you are alerted.
Who will be allowed on the property? Many manufacturing plants and factories are locked down as tight as Fort Knox to protect trade secrets. If that's the case with your company and you choose to contract a commercial cleaning company, you will need to make sure that you have signed agreements from all employees that any information seen will be kept strictly confidential. You'll also want to choose a cleaning company that is bonded, meaning they have done criminal background checks on employees and ensured that they have clean records.
Consult Industry Regulations
Before you hire any cleaning company, you need to consider what regulations there are pertaining to cleaning your manufacturing space. If you are a food manufacturer, you are likely to be regulated by the FDA or other regulatory agencies. In that case, you will need to make sure that the cleaning company you contract is aware of all of the compliance issues and if required is licensed to handle the job.
Another agency to consult is OSHA, the Occupational Health and Safety Administration. OSHA oversees the safety and compliance of most manufacturing facilities and can provide information on best practices.
Insurance Considerations
Before you get bids from commercial cleaners, you should also find out what liability insurance they have that covers any damage to equipment and workers compensation insurance should one of their employees get hurt on the job. You have the right to ask for proof of insurance in order to make sure your company is contracting the right company for the job. When signing a cleaning contract, it's also a good idea to include a clause requiring the insurance coverage amounts remain the same throughout the contract.