Consistency is the key to keeping a home or office clean. If you don't have a space cleaned regularly, it can create a variety of issues including allergies from accumulated dust, infestation of spiders, health hazards from germs and decrease productivity. While the reasons are innumerable, most people just can't find the time to fit cleaning into a daily routine.
Residential Or Commercial?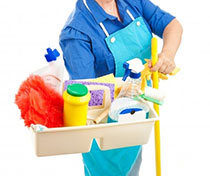 It seems like an obvious answer that if you were looking for someone to clean your house, youâd choose a residential cleaning service and if you have an office, you would choose a company that specializes in commercial cleaning. But there are other factors.
A residential cleaning service generally comes less frequently than commercial cleaners. That is because there is less traffic in a home. Residential cleaners can vary from one person to a team of person tackling the home and depending on the amount of workers, can range from an hour to a day. These cleaners often dont require lengthy contracts and they are more flexible in what services they can offer. For example on a weekly basis they may just change bedding, clean bathrooms, floors, and dust, while once a month, they may clean windows or clean out the refrigerator. They can also customize the services by doing laundry, cleaning vehicles or polishing brass and silver.
Commercial cleaning companies specialize in offices. Generally, large offices are cleaned on a daily basis during the workweek with bathrooms being cleaned and stocked, trash emptied, floors vacuumed and mopped and break rooms cleaned. More often than not, commercial companies require a monthly contract.
Ask For References And Perform Due Diligence
Letting someone in your home around your possessions can be daunting. That is why it is important to get references for anyone you have performing work on your home. You also will have to decide if you will need to be home while the cleaners are present, or if you will entrust the company with a key to clean while you are at work. Another factor to think about is if you want to have the same person each week rather than a rotating staff. A consistent cleaner can get to know your personal preferences and provide peace of mind that your home and possessions are not being cleaned by total strangers.
Whether you choose a commercial or residential cleaning service, you should ask for references of current clients. It's also important to make sure that the cleaning company has the appropriate insurance and is bonded.
The company's insurance is important because if an employee is hurt in your home or office, their insurance company should pay rather than you being held responsible for their injuries. Insurance can also protect against theft and damages. Bonding means that the company has run background checks on its employees and ensured that they have a clean record, something that is very important to entrust the keys to your home or office to strangers.
Regardless of which company you end up choosing, it's important to make sure you have taken these three steps:
Request comparable bids to make sure the price is reasonable and appropriate to the area.
Sign an agreement that clearly states your expectations of tasks, frequency, and schedule.
Inform everyone in the household or office of the service so that they are aware that the people will be coming in. This allows them to secure any personal belongings and ensures that they are not startled thinking that the cleaners are intruders.