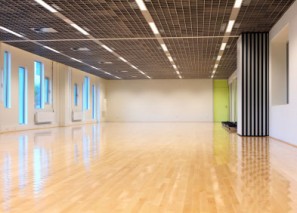 Hard Surface Floor Cleaning Services
There are so many different types of hard flooring that many of our clients are not exactly sure what the best products and techniques are for keeping them clean. Some flooring types should be cleaned dry, semi-wet, or wet to prevent damage. Other flooring types can handle harsh chemicals, while some floors should only be exposed to mild cleansers. In other cases, improper sanitation can dull a finish, remove a floor's wax or polish, or leave a film or residue behind. It's not surprising that hard surface floors can be difficult to clean in a building with multiple flooring types. Professional hard floor cleaning services in New York are the best way to juggle all of these issues without destroying the floor through trial and error.
Why You Need to Clean Hard Surface Floors Regularly
Cleaning hard surface floors are a necessary part of keeping your floors in tip-top shape. Keeping your floors clean and well-maintained should be done regularly, and this can include deep cleaning every six months, or whenever you want.
You'll want to make sure that you clean your floors regularly so that they don't become dirty or dirty over time. You'll want to use an enzyme cleaner that contains biocides in order to properly disinfect them and keep them from getting dirty again. You should also make sure that you use a pressure washer when necessary in order to get into all of the nooks and crannies on your floors.
Why You Should Hire Cleaning Service for Hard Surfaces
Hard surface floors are a great option for businesses and homeowners who want to modernize their interiors. These floors are made from a variety of materials, including tile and marble, but they all share one thing in common: they're designed to withstand the rigors of daily use. However, if you're looking to clean your hard surface flooring, you need to make sure that you have professional hard floor cleaners to clean it for you. Here are some of the best ways that a professional can help you keep your hard surface floors clean:
High-quality cleaning products: Hard floors require special cleaners that can handle not only oil and dirt but also fingerprints and other smudges. A professional will use only the best products available on the market today so that your new floor looks as good as new.
Professional tools: Professional hard floor cleaners will not only use a mop to clean floors but will also use specialized tools such as brushes and an automatic floor cleaner that, when used properly, will not damage your floors. They'll also keep them free from dirt by using powerful vacuum cleaners and other equipment designed specifically for this purpose (and not just any vacuum cleaner).
We Have Experience Providing Hard Floor Cleaning Services In New York
Let Commercial Cleaning provide you with a customized solution for New York hard surface floor cleaning services. We have years of experience sanitizing all types of hard surfaces and guarantee that our New York multi-surface floor cleaner will clean your floors without damaging the materials or finish. We handle any type of flooring, offering our services to clean hard floors in New York for:
Hardwoods
Laminates
Stone and ceramic tile
Slate and other natural stones
Vinyl sheets and tile
Linoleum
Our New York hard floor cleaning services focus on getting your flooring clean without ever damaging the substrate; we also preserve a floor's wax, polish, and finish. We can also identify when flooring might need a new stain or finish and help customers find a vendor for those services as well.
Fill out the free estimate form on this page to learn more about our professional cleaning services. We will use this information to start a dialogue in order to provide you with a variety of options for every budget.